I'm very proud to welcome Dawn Ray'd to the '10 Books That Made Me' series, not least because this atmospheric black metal trio hail from my home town of Liverpool. Their 2017 album The Unlawful Assembly was universally acclaimed and one of my favourite releases of the year, weaving folk tradition and beautiful violin melodies into rich, dense black metal. And their music is infused with deeply thought-out politics. In a subgenre of metal that is tainted by far-right fringes, and in a global climate darkened by creeping fascist elements, Dawn Ray'd are an incredibly important band. With lyrical themes of anarchism, class struggle and revolution, all of which they passionately stand for, Dawn Ray'd will leave any doubters convinced that metal is, indeed, political. Frontman Simon has kindly provided us below with a fascinating, heartfelt glimpse into his intellectual world.
Photo credit: Rob Adamson
Simon Barr (Dawn Ray'd)
1. The Inheritors, by William Golding. These first two novels are both by William Golding and are some of the few novels I have read that I consider to be as powerful as poetry. The story is amazing, and the realisation at the end of what is happening to the people you have been following is really intense. It observes humans from the outside too, something that is hard to do well, and describes things we take for granted with fresh eyes; the way the protagonist Lok experiences being drunk without knowing what that is, or the way they view early man with awe but also with disgust is so well-described. The devastation of man rings truer now than ever before.
2. Pincher Martin, by William Golding. Pincher Martin is quite a strange book; it has a similar devastating realisation at the end as The Inheritors, not that the story is similar, but the way everything becomes crushingly clear in the final words of the book is chilling. Golding describes things in really amazing ways; it's such an imaginative book considering so little happens in the plot. I always just thought of Lord of the Flies when I heard about William Golding, but these books had a profound effect on me like nothing else.
3. The Brother Lionheart, by Astrid Lindgren. This is a children's story I read when I was really young, but I re-read it every 5 years or so. It's a really good fantasy story about two brothers; you can read into some of the resistance themes if you want to, but mostly I just love the bravery and love between the main characters. The ending will have you weeping for joy. "There are things you have to do, otherwise you are not a human being, just a piece of dirt."
4. In French and Russian Prisons, by Peter Kropotkin. My partner bought me this second hand, as we had been talking about prisons and trying to work out what we thought about them. The book convinced me fully that prisons are an abomination – not only are they are a cruel punishment mostly punishing the petty crimes of the poor, but they don't work in reducing crime or rehabilitating 'offenders'. I agree there are certain people we cannot allow to be part of our society, but the majority of the prison population is there from actions born of the desperation of capitalism. It would be another year until I committed to being an anarchist, but this was a good introduction to radical thought.
5. Four Quartets, by T.S. Eliot. T.S. Eliot is, in my opinion, the greatest poet that ever lived. He writes about simple things; the passing of time, the passing of the day, nature, but it is never dull or twee. My favourite line ever is "At the still point, there the dance is." The future runs from us, the past disappears behind us and we are left only with the present, the still point, and that is the only place you can properly find love, meaning and happiness. I like that Eliot seems to ramble for a while then all of a sudden he snaps out a really succinct and profound line that draws everything you have read together. If you are wanting to get into poetry, start with Four Quartets.
6. Stag's Leap, by Sharon Olds.  This book had me in tears almost constantly. It traces the author's marriage faltering, ending, her grief, and finally her recovery. She has nothing but love for the man who leaves her, and it's amazing to read about heartbreak that is never angry or bitter, but just loving and crushingly sad. One of the most powerful things I've ever read, and keep going back to.
7. Fighting For Our Lives, Crimethinc. This is a cheat really, it's only a pamphlet or a zine, but this anarchist primer by Crimethinc was the defining moment of me becoming an anarchist. It explained all the things I was already thinking, but gave it a name, and gave me the language to describe what I thought. I picked this up at a show when I went to see Abolition. "When we fight, we are fighting for our lives. You may already be an anarchist!"
8. Prison Songs, by Yannis Ritsos. I've read quite a few Yannis Ritsos books – he did a prison memoir in poems, he has written a lot about the Greek landscape and people, but Prison Songs resonated the most with me. I think it's because the themes are so universal; liberation, kindness, sacrifice, bravery, compassion, that you don't need any prior knowledge of Ritsos himself or the country it was written in to be moved by it.
9. Night Sky With Exit Wounds, by Ocean Vuong. Fabian bought me this, it won a bunch of awards, and was a pretty hype release. Vuong doesn't have one particular style in my opinion, more just an overall feeling that is recognisably his, it takes you through every aspect of the persons life for better or worse, describing violence and brutality but leaving the conclusion up to you, almost like a moral test of the reader. It also has sentence structures and poem titles that you wouldn't expect, and all overtly political without being in anyway a political book. Worth all the hype.
10. Black Cat Bone, by John Burnside. This is actually what I'm reading at the moment, so I don't know if it's fair to say it's in my top 10 of all time, but I'm so excited about it that I just want to tell everyone about it. It's so descriptive, he uses language in ways I've not seen before, for me it's a perfect example of the potential of poetry, what it can achieve and how much more refined it is than prose when done well. Fully recommended!
Thank you to Dawn Ray'd's Simon for this thought-provoking piece, which gives us an insight into the formation of the band's political views, as well as some great reading recommendations.  T.S. Eliot's The Waste Land is on my top ten list and I'm now going to re-read Four Quartets.  You can discover Dawn Ray'd's music and tour dates here:
Facebook: https://www.facebook.com/dawnrayd/
Bandcamp: https://dawnrayd.bandcamp.com/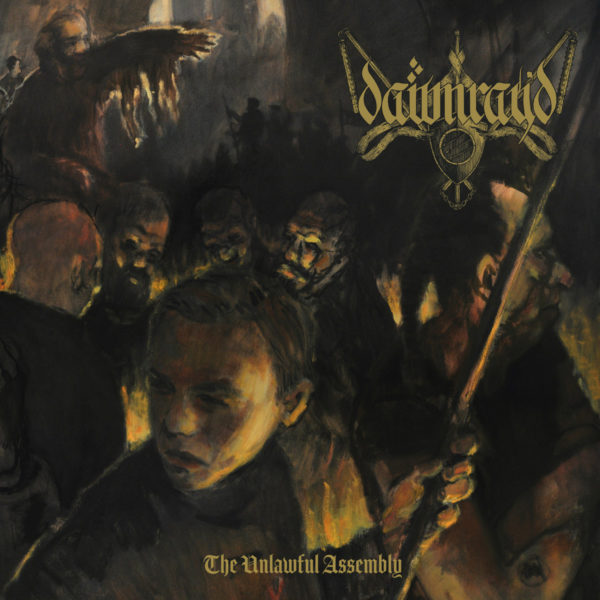 ---