Drawing inspiration from the galactic curiosity of their native Houston, as well as the unbridled wildness of nineteenth century Texas, Wills Dissolve (named after a song by Isis, one of their major influences) are an exciting new band on the progressive metal scene. Formed in late 2015 by guitarist/vocalists Nick Block and Andrew Caruana, who have been writing and performing together since 2007, they were shortly joined by bassist Shaun Weller, a road-hardened punk and doom player. Drummer Branson Heinz completed the line-up, bringing his black metal-influences brand of speed into the fold. Drawing on these diverse influences, Wills Dissolve believe in creating albums centred around a cohesive story. Their debut 'The Heavens Are Not On Fire' (released October 26th 2018) is a concept album about the Leonid meteor shower of 1833 being mistaken for a sign from God in rural West Texas, and the destruction that followed.
Here are the books that helped to shape their unique brand of metal.
Nick Block:
1) As I Lay Dying, by William Faulkner. The sadness surrounding the anticipation of death is probably my favorite part of this Southern Gothic masterpiece. There is something incredibly cinematic about this book, despite quite a few stretches with little dialogue.
2) The Colour out of Space, by H.P. Lovecraft. Lovecraft has a way of creating dread from the unknown. His haunting descriptions are something that influence my writing style. We are starting the writing process on our second album, and this story in particular is a huge influence.
3) The Melancholy of Resistance, by László Krasznahorkai. I spent a major part of my childhood living in Hungary. This book perfectly captures the oppression and malaise Hungary felt during the Cold War that still has its grips on some parts of the country. It also perfectly captures the feeling of wonder, followed by the deep cut of betrayal.
4) Slaughterhouse Five, by Kurt Vonnegut. Everything was beautiful and nothing hurt. Science Fiction, war, knowing your own death, this work is wonderfully complex.
Shared:
5) Blood Meridian, by Cormac McCarthy. (Nick) No one describes scenery better than Cormac McCarthy. Again in the Southern Gothic style I so adore, this book thrusts you into the savage landscape of the 19th century southwest. This book had a very large influence on our lyrics for The Heavens Are Not On Fire…
(Andrew) Violence, chaos, death; not a pleasant read by any stretch, but one of great importance to this band in particular:  The very first draft of the album was to do something similar to Ahab's "The Giant," and "The Boats of the Glen Carig," and bring that story to life with a concept album.  Although we ultimately went in another direction, many of the themes from that book are likewise present in our own tale of a "…legion of horribles, hundreds in number," going forth to commit savagery.
Andrew Caruana:
6) Animal Farm, by George Orwell. An allegorical treatise on the dangers of communism.  It leaves a bitter taste in the mouth upon its conclusion, but that's the point.  A great work by a great author.
7) Preacher, by Garth Ennis.  Although this is a graphic novel, its themes undoubtably had an impact on the lyrics even if only on an subconscious level.  Garth Ennis's dark take on the nature of religion and man is a favorite of mine.
8) A Brief History of Time, by Steven Hawking. I have always been fascinated by space; black holes, neutron stars, string theory, you name it.  This book was his attempt to explain the various phenomena in our universe in a way a layperson could understand. It's one of the very few books I have ever re-read.
9) The Life and Morals of Jesus of Nazareth, by Thomas Jefferson.  Better known as the "Jefferson Bible," it took the philosophy and teachings of one "Yeshua of Nazareth" and condensed them into a naturalistic lesson on morality, without anything that would be considered supernatural. Completed in 1820 using glue and a razor, it was a personal project Jefferson undertook for its own sake, which is something that strikes a chord with me.
10) The Divine Comedy, by Dante Alighieri. One of my favorite works of classical literature.
Thank you Wills Dissolve for these great recommendations, which give a real insight into your creative process. Cormac McCarthy would definitely be on my list too. Wishing this exciting new band the best of luck with 'The Heavens Are Not On Fire'; go pre-order it now on Bandcamp:
Facebook: https://www.facebook.com/willsdissolveband/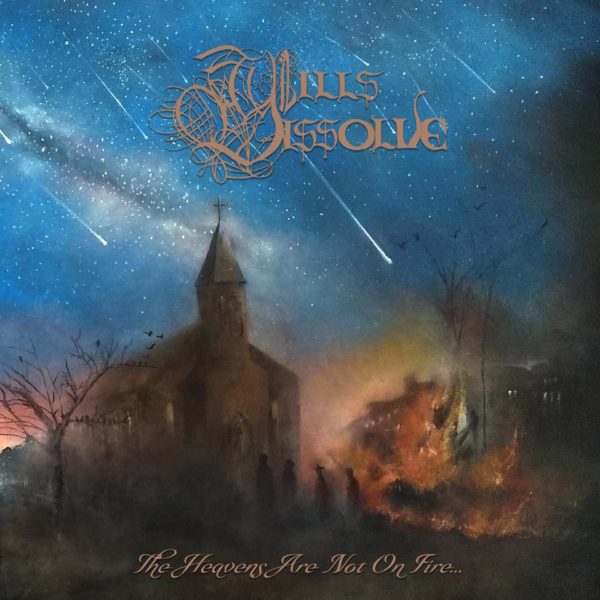 ---