Jennifer Worrell, author of Edge of Sundown
Thank you, Catherine, for having me on!
I can't imagine a life without music.  After years of writing I noticed a pattern: much of my prose takes on metaphors of music.  Perhaps because it's a universal language, it works as a sort of shorthand.
When I created a protagonist who's also an author, I wrote him and his story only as I knew how: in terms of music. Some of these songs represent what I envisioned (enlistened?) playing in the scene; some capture the tone I hoped to express.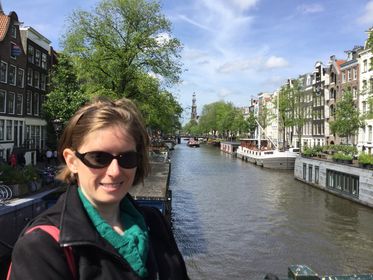 You're Blasé by Sarah Vaughn
Shortly after the novel opens, my lead, Val Haverford, waits for his agent in a bar, relaxing to his favorite music: soulful jazz, R&B, torch singers.  But the music and lyrics here do double duty: they hold a gentle sadness and insight into his state of mind.  While reaching for the moon / And the stars up in the sky / The simple things of normal life / Are slowly passing by.
Cry Me a River by Julie London
As the scene ends with "the last of a Julie London ballad", I give another tip of the hat of things to come. And that's all I'm gonna say about that.
Blue Moon of Kentucky by Kevin Williams
Wayfaring Stranger by The Hit Crew
Val goes to a post-Christmas party hosted by his agent and his wife, Anna.  Val pretends to be interested in bluegrass just to avoid mingling.  Luckily for him, it doesn't work…
Broken Bottle by Alejandro Escovedo
…Val is introduced to a colleague, Sandra Bayliss, who sings part-time with the band.  He's taken with her voice and the gentle tempo of the song, even if she hasn't yet won him over to the genre.  Later in the novel, long after the holiday, the instrumentation is largely taken away and she's alone on a stage with only her guitar, and the lyrics—or lack thereof—change the tone completely.
Sweet Memory by Melody Gardot
Sandra loans Val a disc which he immediately sniffs at, until he realizes you can't judge a CD by its cover. Though this song is countrified, the majority of it is sultry jazz, and Val's forced to admit perhaps he was wrong about a few things.  This theme replays throughout the book.
Sweet Home Chicago by Robert Johnson
In Chicago, there actually is a man who rides around on a bike with a puppet theatre strapped to the back.  I had to work this odd little detail in somehow, even if in Sundown, the theatre plays the part of a glorified jukebox, and instead of a puppeteer, the performer is a political satirist doing a chilling interpretive dance.
Clavierbuchlein for Anna Magdalena Bach, Book 2, BWV Anh. 113–132; Minuet in G Major, BWV Anh. II 114 by Janos Sebestyen (written by Johann Sebastian Bach)
7-Eleven is a simple convenience store found around the globe.  In my neck of the woods (north side), they are silent from the outside.  However, a few locations downtown do indeed blast classical pieces onto the street.  Another of the city's delightful quirks.
Only a Dream by Mary Chapin Carpenter
This song does a lot of heavy lifting.  The theme of lost opportunity runs throughout the book between multiple characters.  I think of this song when Val and Graham are wishing the past were different, brooding over dreams unfulfilled, sitting alone with their emptiness.
I used to believe we were just like those trees / We'd grown just as tall and as proud as we pleased / With our feet on the ground and our arms in the breeze…
…I turned on the light / And all that I saw / Was a bed and a desk and couple of tacks / No sign of someone who expects to be back / It must have been one hell of a suitcase you packed
Rolling in My Sweet Baby's Arms by Jimmy Ryan
Val tells Sandra a story symbolic of feeling lost between two worlds: the one where he's a success, and the one where he's a relic.  A song like this one, heard by chance as a boy, unconsciously kicked off his career.
Snowfall Theme by Claude Thornhill & His Orchestra
As Val's relationship with his colleague Sandra grows, I wanted to set the mood with something romantic without getting away from the theme.  I first heard this song on a Christmas album and it gave me chills.  Though it perfectly captures the silence brought on by the first heavy snow of winter, there's a disturbing undertone beneath its beauty.  At the end of this chapter, Val's arc takes a confessional turn.
Dark Scary Drone Soundscape Low Sfx by Fred's Instrumental Music
Disbelief by Brian Thomas Curtain
The soundtrack changes to more unsettling pieces unlike anything Val would choose to listen to.  The jukebox selections are now out of his control.  His revelatory scene needed an unsettling underscore, and huzzah!  Spotify delivers.
Racing Against the Sunset by Philip Wesley
Anna's own stubborn obliviousness matches Val's.  As her life diverges unexpectedly, she's lost in music neither of them can really hear, which spirals faster as they drift further apart.
Threnody for a Lost Space Astronaut by Pianopassion
Elevated Trains by Brain Reitzell
Unfortunately the revelations keep coming for Our Man, and these titles are shockingly spot-on.  He discovers one final truth about the trajectory of his career while riding an L, and later destroys a piece of himself in a way that mirrors his flashback just prior to the Snowfall scene.
What We Had by Handsome Furs
This song has always played in my head at the end.  It echoes the hollowness and finality that Val's forced to acknowledge his role in creating.  Nobody's here, just empty space…
…And what we had don't mean a thing / And what we had is already gone
Hey Joe by Robert Plant
Val's come to a point where stillness and naïveté no longer exist, and he's prepared to face the ending he refused to accept until now.  I was sufficiently disturbed when I heard this cover, and I hope it works similarly with my readers.
Edge of Sundown blurb
When dystopian fiction becomes real…
Val Haverford's Sci-Fi and Western novels made him a household name. But that was then. A decade of creative stagnation and fading health has left him in the literary wilderness.
Attempting to end his dry spell and secure his legacy, Val pens a dystopian conspiracy theory set in a tangential universe where alien invaders eliminate 'undesirables' perceived as drains on society.
But as he digs deeper into violence plaguing his adopted home of Chicago, he discovers unsettling similarities between his work in progress and a life he thought he left behind. Soon he finds his fictional extremists are not only real—they're intent on making sure his book never sees the light of day.
As he pieces together haunting truths about his city and his motives, Val realizes his last chance to revive his career and reconcile the past could get him—and the people he loves—killed.
Will he make the right choice? Or will it be too late?
Edge of Sundown is a provocative story that shows how the desperation of lost opportunity can lead to drastic and unexpected consequences.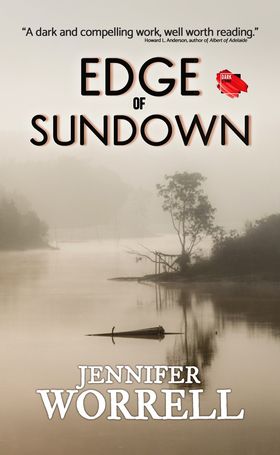 ---