MAMA_GOES_WACKEN ??
I am thrilled to introduce Laura, a.k.a. Mama_Goes_Wacken. When I came across Laura (who lives in Germany) on social media I felt an instant connection; she's a hard-working Mum who loves rock and metal music, and she is learning the guitar from scratch, determined to fit her new passion around family life. But Laura has big ambitions: she is determined to play at Wacken Open Air, the biggest heavy metal festival in the world. Some might say that's crazy, impossible, but Laura says 'why not?' And I believe in her 100%. This lady is fearless and fun, and she is bravely documenting her progress on Youtube in order to inspire others. Mama_Goes_Wacken is a must-follow for mums, metal fans, guitar students, and anyone who has a dream. Thank you Laura for talking to us!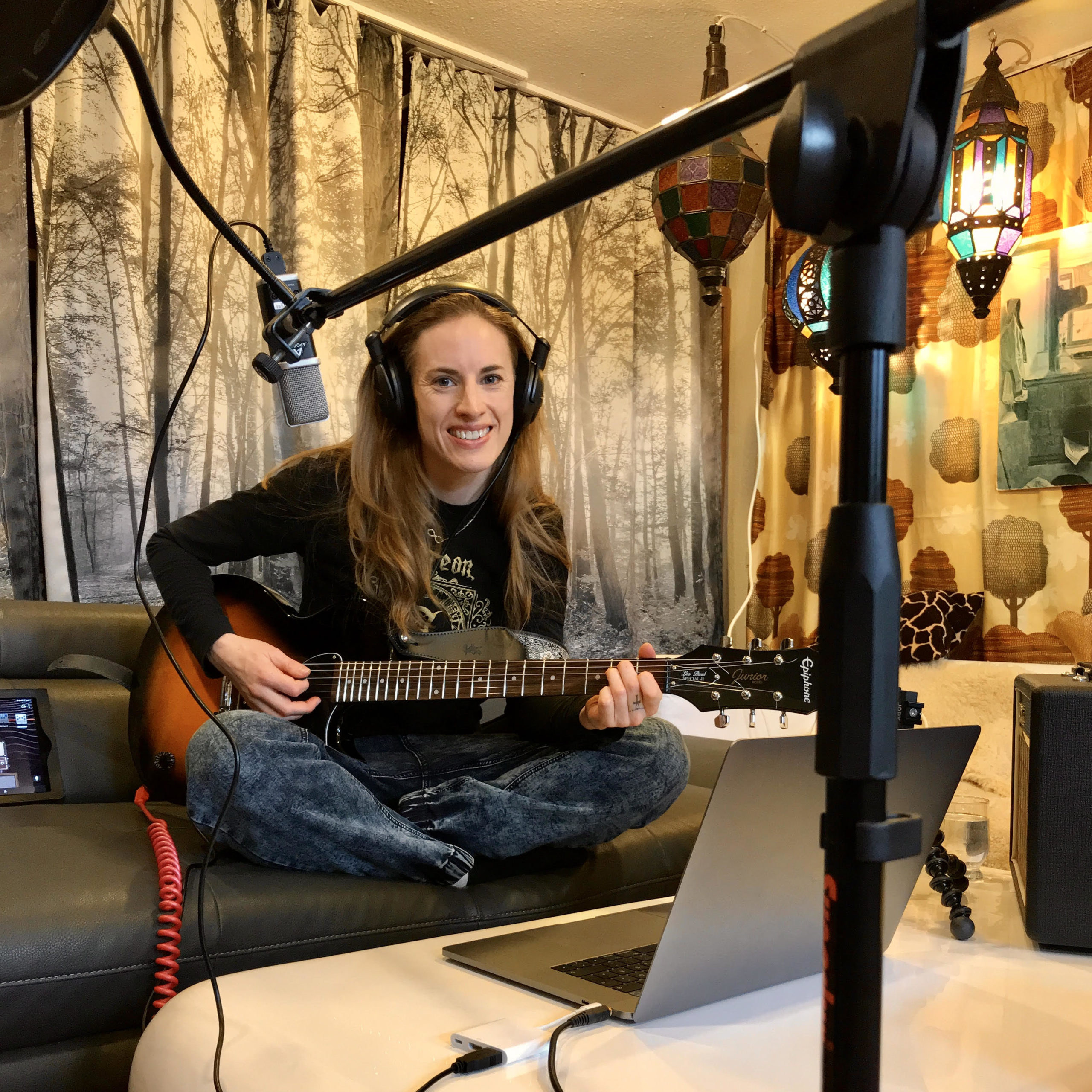 Your goal is to play at Wacken. Why did you decide to set yourself such a difficult challenge?
My main goal is to become a good metal musician in 10 years, good enough to have the level to be able to play at Wacken Open Air. I don't want to become the best guitarist. I want to be able to create music, to keep together a band, to play in pubs, to let my creativity speak through metal. I want to let out what has been hidden inside and what has had less space in my life so far.
All of this together in my eyes is an achievable challenge. Playing at Wacken Open Air festival is the icing on the cake. This really is what I call a dream, what was in my mind while playing air guitar to a metal song that drove me crazy, all alone in my room, nobody watching me. I really dream of it. In order to reach this goal I need a big portion of luck, too. But there are also several things I plan to do to influence this.
And honestly – who would follow me if I called my project "Laura Learns Guitar"?
You are an accomplished wind instrument player. What made you choose to start all over again as a beginner, and why the guitar?
With the wind instruments I play it's possible to play one note at a time. Several times I took the effort to learn about harmony, but it never stayed in my head because it never went through my body. With my wind instruments I am able to create melodies but not easily substructures. The guitar practically makes me feel what chords and harmony are. It enables me to create ideas and demos where I can make my wind instrument melodies fit in. That's why I have wanted to learn it for a long time.
But the one who actually made me begin was my baby boy. After he was born, for a long time it was impossible for me to practice my wind instruments. He just didn't like it and he always started crying, quite the opposite though with the guitar. He liked it and so I started practicing on the acoustic guitar.
How long have you been having guitar lessons?
After 6 months of self-taught practicing I chose to take a lesson every two months with a gifted jazz guitarist I knew from a former Bigband project. This went on for three years. I made very small steps because I had less time for it. But I made steps. I even had a handful of lessons on the electric guitar at the end of this time. But so far it didn't enable me to play a cover song. I could do some pentatonic improvisation and two-note-power chords on E and A string.
Since January 2020 I have weekly lessons on metal guitar.
How much time do you spend practicing every week, and what is your practice routine?
I manage to practice guitar 6 to 7 hours per week, plus lesson. In the current life phase I am still mainly an engineer and mother. For later it is planned to increase exercising times! I start with some body exercises to warm up and bring together body and mind, at least 3 minutes. After that I do a slow pentatonic improvisation on some YouTube backing track. The rest of the time is for the homework I get from my teacher. I end up with playing stuff I learned before.
That's my ideal routine so far.
What pieces are you working on at the moment? What pieces have you learned already?
I started learning metal guitar and taking weekly lessons 4 months ago. Since then I am deep diving into AC/DC. I learned three AC/DC songs in a row. Right now I'm practicing "Back in Black". Next step is to create my own song or song part in the style of AC/DC.
Any dream songs you would love to be able to play?
A lot… e.g. from Soilwork, Ayreon, Muse, Guthrie Govan,… and many more. Just one dream song? Not chosen yet. First I will work through different styles of metal.
Tell me about your equipment. Which guitars do you own, which amp/pedals do you use…
I use a low budget beginner package. My Epiphone Les Paul Junior I got from a colleague. There is a Vox Pathfinder Amp that does its job. And I'm happy to have a Line 6 Pocket Pod to choose different sounds. No pedals so far.
My curriculum leads me through all the technical things as well. I have started learning about amps now. Pedals will follow later. I ordered a Positive Grid Spark Amp which I already use the app for jamming along.
I have two "bonfire" -guitars and one for the children to play with.
I will allow myself to buy dream guitars when I reach a certain level.
I saw that you interviewed Britta Goertz, one of my favourite vocalists. Do you sing as well?
I love to sing from time to time and I took some lessons in the past, just to learn some technique. I enjoy growling and shouting and took workshops for that because I fear to damage my body without a little guidance (thank you @Britta.Goertz.official). I want to be able to record demos and do backing vocals in the future. But at least the next 4 years I don't plan to emphasize on vocals.
What do your family and friends think about your project?
They are curious to see how it's going 🙂
With my metal/guitar renaissance, I think I had reached a point (aged 36/37) when I needed to break free from my very domesticated life and express myself. If it hadn't been with metal, perhaps it would have been something else. There have been some interesting academic studies about the 'female midlife crisis', which happens in a woman's mid-thirties and often results in a burst of creativity. Does any of that sound familiar to your situation? Or had you always had this dream?
Creativity has always been at the same level I think. But what I feel is a clear increase of willpower and self-confidence. I am sure this is the result of my life experiences I went through so far. It might be called 'female midlife crisis' by some simple-minded males. But I haven't had any crisis for several years. I don´t call it like that except just for fun. Some people need an explanation and this is a good catchphrase.
You are documenting your progress via a Youtube channel. This is cool and very brave! Does it help to discipline you and make you practice harder?
No, the YouTube videos are for the sake of motivating other people to fulfill their dreams like I do. And to find people who like to listen to my ideas. I plan a lot more different types of videos there – not only progress. It's another valve for creativity. For exercising guitar I need no more motivation than knowing I am a bad guitarist at the moment! And I always loved exercising, even repeating same phrases over and over. I know this from my wind instruments. And the feedback of my teacher Jan Gülle is a big motivation, too.
When do you think you will be ready to perform in your first gig? Are you thinking about joining an existing band, or starting your own? What type of music will it be?!
First gig with playing guitar needs to wait a bit. On my 30th birthday I swore to myself I would play in a metal or progressive rock band at the age of 40. There are three years left. I feel that is a good time frame to prepare for it.
Right now I think it's a good plan first to gather some experience in an existing project. But I will see what doors will open. I plan to go to a vocational school for popular music. It includes project work.
I am curious to try out different styles. Right now Doom Metal is attracting me very much.
Do you write your own music?
At the same time as I started guitar, I also started to get my head around harmonics. And I wrote my first three pieces of music. Two of them I will introduce soon on YouTube, just as demo versions.
"Stall, Grind, Skate" demo is already public with a skate video on my Instagram skate account.
Who are your favourite bands/musical influences/musical heroes?
Scorpions were my first love. I was six years old, when I saved my sparse pocket money and went to the local record store to buy a Scorpions cassette. It was because of "Send me an Angel". But this is how I got to the harder numbers as well. I drove the cassette until it broke. Mozart played a vital role with my clarinet. He was a genius.
More over I am being influenced by all those combos I played in with the wind instruments: Jazz, Classical Music, Chart Stuff for parties, Traditionals and Marching Band Music. As a listener I love Ayreon, Steven Wilson, Orphaned Land, Myrath, U.D.O., Soilwork, Infectec Rain, Tiamat, Powerwolf, Barren Earth, Anterior, Boysetsfire and Nathan Grays projects, SOAD, Saturnus, Hamferd, Vic Anselmo and many more. I still love the Scorpions – it's an unbroken love.
Have you been to Wacken? Is there a good music scene where you live, and what is the best show you have been to?
I visited Wacken once. I'm interested in getting to know different music festivals. That's why I split my limited time between a few different festivals in Germany and Belgium.
My first festival was Rockharz 2014. Before that I had no money for festivals. And before that I had no friends who shared my metal interest and would go with me to festivals and I didn't have the money for it :-D.
In the meanwhile I don't mind when nobody wants to go with me to a festival. Graspop Metal Meeting I visited alone. It was a great feeling to do everything relying on myself. The result: Boost of self confidence! And talking metal family: at a metal festival you are never alone!
Visiting festivals is always a clash with my family interests – that's why this time is very rare and precious for me.
But concerts go well here in Hamburg. I can see nearly everything here and I go there regularly.
Best shows…. I keep that question for another interview – otherwise I will talk too much.
What advice would you give to adults thinking about taking up a musical instrument, or even to mothers thinking about reinventing themselves?
For taking up an instrument: Ask yourself if you like exercising daily. If yes: Do it. If no: Think of something else.
For mothers: family and babies are a great adventure! But please never loose to do something for yourself. Even if it is only 10 minutes per day. It helps you keep your identity. Perhaps it's possible letting the children take part. Then it's killing two birds with one stone.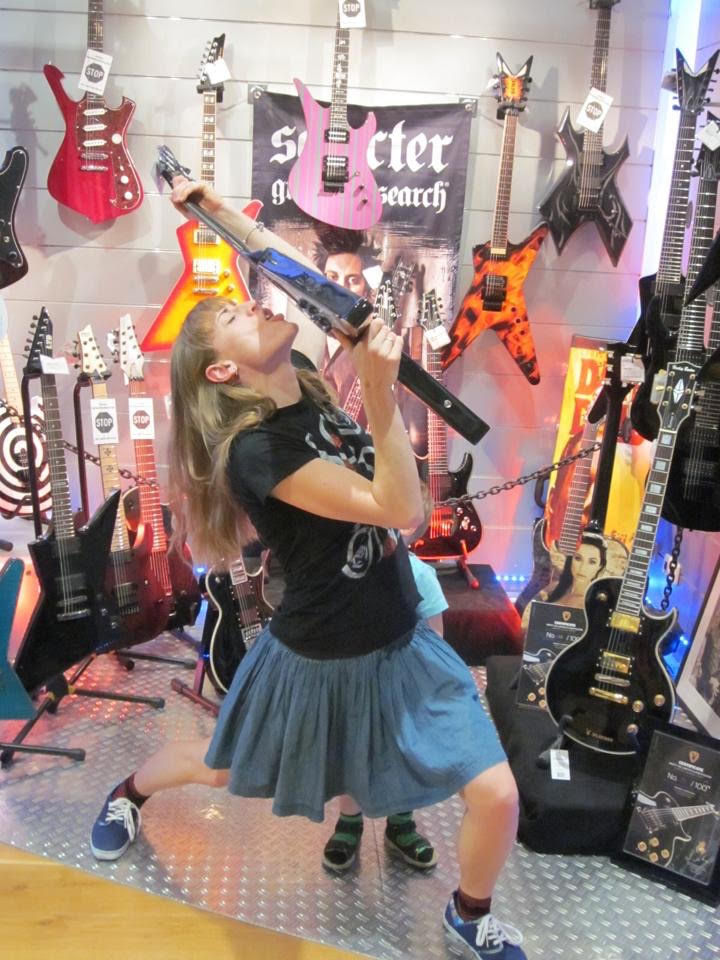 Anything else you'd like to say to our readers?
Hey yes! I founded the Facebook group "Network for Female Metal Musicians and those who want to become one".
The intention is to motivate more women to enter metal! And to have a place from woman to woman. Men are wonderful – but this place is for women only.
Network For Female Metal Musicians FB Group
You will find inspiring female musicians from all over the world there like writing metal mama Catherine Fearns!
Indeed 🙂
Thank you so much Laura, what an inspiration. You can follow Laura here, and make sure you subscribe to her Youtube channel!
---