BOOK CLUB DISCUSSION
One of the first reviews of Reprobation said it was "perfect for book club debate", and since then a few book clubs have indeed shown interest in tackling it. Although this is a rather daunting prospect for me as a debut author, it's also incredibly flattering and did make me think about the discussion points that might arise out of Reprobation. It's a relatively short book, but it deals with weighty themes. Behind the crime thriller plot, the colourful characters and the setting of Liverpool lie some fundamental questions about destiny, choice and guilt. Questions that I wanted to ask of myself while I wrote this book. So here are a few ideas to get you started.
If you're in a book club and you'd like to read Reprobation, or if you have already and you'd like to add to this list, I'd love to hear from you!
1. How important was the setting for this book? How important was the time of year and the weather?
2. What did you think of the title, Reprobation? How does it relate to the various characters?
3. Mikko and Helen are an 'odd couple'. What do you think they saw in each other?
4. Which character did you identify with the most?
5. What has Darren learnt by the end of the book?
6. What did you think of the portrayal of religion, and in particular of Calvinism, in this book?
7. Do you think the author is religious?
8. If you could hear the story from one character's point of view, who would it be and why?
9. What would you do if you knew you were going to heaven or hell?
10. The book cover is a little controversial. Why do you think the author chose it? Would you have preferred a different cover?
11. This book falls within the crime genre, but it is not a traditional police procedural. Does it remind you of any other books you have read?
12. How important is the supernatural in Reprobation?
13. The final chapter is an epilogue featuring two different characters in hospital beds. What is the significance of this epilogue? Did it change the way you interpreted the story?
14. The author leaves several questions unanswered. Did you find this frustrating? What else did you want to be explained?
15. Who would play which parts in a movie adaptation of Reprobation?
16. Reprobation is partly inspired by a recurring dream that the author has had since she was a child. Do you ever have recurring dreams?
17. The author is a musician and music journalist. How important is music in this book?
18. Reprobation is the first in series. Would you read the sequel? What would you hope to see more of/less of in this author's future books?
19. How would you describe the writing style?
20. Let's assume for a moment that Andrew's scientific discovery was true. Do you think his actions subsequently were correct? What would be the implications if he succeeded?
Reprobation is available from selected bookstores and Amazon.
If you have read and enjoyed Reprobation, please consider writing a review on Amazon and/or Goodreads. Reviews are so helpful for indie authors!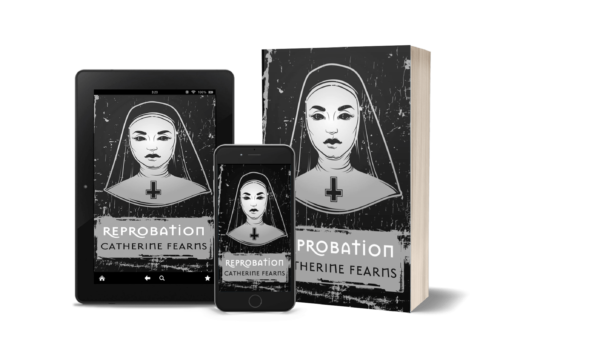 ---