Gender, Metal & The Media
There's no doubt that women are still a marginalized minority within heavy metal culture, but that is beginning to change, and sociologist Dr. Rosemary Lucy Hill is one of the scholars helping to overturn stereotypes. Her book, 'Gender, Metal & the Media: Women Fans and the Gendered Experience of Music', challenged the claim that metal is inherently masculine, and argued for a far more sophisticated analysis of musical pleasure than is usually ascribed to the genre. I loved reading the stories of metal women like myself, who appreciate the music for our own very different reasons.
Dr. Hill is a lecturer in sociology at Leeds University, and is currently researching sexual violence at live music events  and sexual violence in chart topping rock and metal lyrics. Vital, timely research, but what I love most about her work is that she really listens. So I'm thrilled that she has made a playlist for us to listen to today!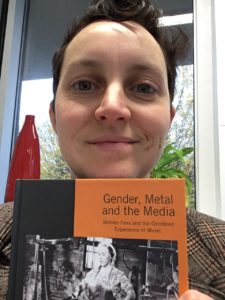 Dr. Rosemary Lucy Hill's Playlist
GMM is about fandom, especially women's fandom, which is so often disparaged. Women fans are too frequently treated as second-class music lovers (well, groupies really). I wanted to tell women's stories about being passionate music lovers whilst also having to negotiate the sexism they face from the metal media, industry and other fans. The book is also about the discrepancy between who is on stage and who is in the audience, and therefore whose stories get told.
So my playlist is mostly songs by bands that the women I spoke to loved, but it doesn't include all the bands they mentioned. The playlist is companion to the book – the songs are here to make a point about the gendered experience of music.
To begin, 'Yeah Right' by Girlschool. The song is about claiming your freedom, declaring your own power to act in the world, in this case getting wrecked on vodka. So it's a pretty typical metal song. But Girlschool were all women so this song becomes about much more than drinking. It is a challenge to the limitations placed on girls, a declaration of independence and a riposte to gender strictures. Yes women can and do like metal, and yes I am going to write a book about it! "You can't do that, you can't do that | I've heard it all before | Yeah right!"
Too often women fans are only thought of as interested in fucking the musicians rather than the music. But of course women listen to music without giving a shit about sleeping with the guitarist or whatever. One of my interviewees, Ruby* talked about how listening to Howard Jones of Killswitch Engage sing made the hairs on her arms stand up. She compared him to an opera singer and said that he had been her 'heartbreak buddy' whilst she was getting divorced. This is an embodied experience of listening which shows we need to go beyond thinking about intellectual engagement with music as the most important kind. Another interviewee, Karen's passion for Rammstein was so infectious that after speaking to her I immediately went home and booked tickets to see them. It was awesome. Everyone should see Rammstein once in their life.
Click here to listen to the playlist on Spotify
Yeah Right – Girlschool
The End of Heartbreak – Killswitch Engage
Links 234 – Rammstein
Toxic – Britney Spears
Welcome to the Black Parade – My Chemical Romance
Mad Dogs and Englishmen – Stone the Crows
God Is a Girl With A Butcher Knife – My Ruin
Crusher – Kylesa
Angels – Within Temptation
Lionhearted – Battle Beast
It's important that we recognise that people's taste often ranges across genres. So Aime was both a huge Avenged Sevenfold fan and a Britney Spears fan. There's a lot of sexism directed at women fans, especially young ones like Aime. And there is a lot of nasty language directed at the bands women like (such as My Chemical Romance). But actually if we listen to what young women say about their favourite bands we can better understand the range of human experiences of music – especially those that are not influenced by clichéd responses. So I've included both MCR (who were loved by a number of the women I spoke to and regarded as a gateway band for others, leading on to 'harder and harder stuff') and Britney Spears. Anyway I love 'Toxic' and fuck you if you care about that.
I spoke to older women as well and I was really pleased to hear from Carol about Maggie Bell and Stone The Crows. This band were managed by Peter Grant and were pretty successful in the early 70s. Then, like other female musicians of the time (e.g. Birtha) they were pretty much written out of rock history. Stone The Crows also tell us something about how the definition of 'metal' has changed over time, but women's metal fandom can last a lifetime.
Hazel was really inspired by Tura Satana. Hazel had weeded out the sexist bands from her record collection – she couldn't bear listening to blokes singing nasty things about women any more. Tura Satana's band My Ruin therefore represented for her what hard rock and metal could be without the sexism. Kylesa are here to represent the doom bands a few of my interviewees liked. I've picked them from Grand Magus, Slabdragger, Cult of Luna and others because they are fronted by a woman. If metal is to work towards the inclusiveness and equality that some people think it already has, then we all need to be listening to music by women and supporting women musicians. Within Temptation were an inspiration for guitarist Jessica. I've chosen 'Angels' because it is a song about domestic abuse from the female survivor's perspective. Metal is a brilliant arena for us to tell stories of violence, hatred and damage. Women have important stories to tell.
To finish my playlist on an epic high: 'Lionheart' by Battle Beast. One of the best gigs I've been to was Battle Beast in Helsinki with a lot of other metal scholars. I am in awe of lead singer Noora Louhimo. My book ends with suggestions of what we as metalheads can do to make metal culture better for women. You could read the lyrics of this song as being women's rousing cry to metal:
"All I want is to live one day
Like a lion, so free and brave
I can fight, I can roar, I can cry
But I can't feel your love in my lionheart, no no no!"
* All names have been changed.
---