I'm delighted to welcome author Simon Bower, who has compiled a playlist for his new novel, 'Dead In The Water'. Simon is a Canadian and British crime writer who has spent the past 20 years global living. In 2018 his international crime thriller 'Dead In The Water' was published by Middle Farm Press. He currently lives in France. Take it away, Simon…
When the idea was posed to me to write a guest blog weaving a playlist into my recently released international crime thriller, I was immediately endeared to the plan. My novel DEAD IN THE WATER is a hybrid realistic / mystery / suspense and seems to crossover genres with some abandon.  It's an accessible, some say 'vacation' read, binding together places I know well – Geneva, Amsterdam, London, New York and the Côte d'Azur with a plot that is unpredictable and deliberately off the wall.
Of course, I compiled the playlist ex post facto but the songs were never far away and some are referenced in the book.  'Out of Control' by the Chemical Brothers had originally been noted on page one and was edited out, but the song remains in the chapter for me. The person that is sinking into the sea water is rapidly losing all cognisance of the world around her, and as the music from the harbour-side bar pounds 'Out of Control', she slips into the darkness.
The protagonist, whose chapters are written in the first person, is Charlie.  As he breaks up with his long term love, he feels lost and lonely. Beck's 'Loser' is exactly the track Charlie would play on repeat on his iPhone until he pulled himself together. Charlie meets up with his Uncle Len in Lauterbrunnen, a cliff-sided valley in Switzerland. Maybe Macklemore was mocking when he said how awesome things were in 'Thrift Shop', but for Charlie, quoting that line, he was on top of the world before launching off the cliff with Len next to him in a Tony wingsuit.
'Cigarettes and Alcohol', the classic fall-back choice for a music-themed fancy dress party, represents Charlie's brother Scott, and his descent into both.  Failing marriage, flat lining career, and jealousy of Charlie's freedom all sum up Scott's lifestyle choices yelled out by Oasis.
Charlie's spirits continue to lift as he rekindles a romance in Laguna Beach. In the open top Mustang hurtling down Interstate 405, there's a suggestion that Ana would have 'Californication' playing, probably on a cassette tape. When we finally get on the catamaran on the Med, 'Holiday' in all its forms, in particular Green Day's song would be in Len's selection.  I chose David Guetta's 'Lovers on the Sun' next, since sun, and lovers are the recipe on board and Guetta's French electroclash would suit the tastes on board.
When the story catches up with the starting point, moods change. The drug and booze filled body glugs downward, and the emotive Doors long player – 'The End' exemplifies the dark moment. French detective Georges Fournier is called in to investigate, which seems a perfect moment for Supergrass to shout about being 'Caught by the Fuzz', and the album 'I Should Coco' no doubt present in Len's aging CD collection.
I am not going to say too much about the next three tracks – but we can see the direction of travel: PJ Harvey belting out that you're not 'Rid of Me' symbolizes the Part 3 of the book. 'Psycho Killer' a thinly veiled reveal that all is not rosy and cosy in this mystery, a message reiterated with Rihanna's 'Man Down'.
The lyrics of Imagine Dragon's 'Amsterdam' could not be more fitting, as the thriller concludes.
Click here for Simon's Spotify Playlist:
Out of Control – Chemical Brothers
Loser – Beck
Thrift Shop – Macklemore & Ryan Lewis
Cigarettes & Alcohol – Oasis
Californication – Red Hot Chili Peppers
Holiday – Green Day
Lovers On The Sun – David Guetta
The End – The Doors
Caught By The Fuzz – Supergrass
Rid Of Me – PJ Harvey
Psycho Killer – Talking Heads
Man Down – Rihanna
Amsterdam – Imagine Dragons
Dead In The Water by Simon Bower (Middle Farm Press, 2018) is out now in Payot and Fnac bookstores in Switzerland. Paperback and eBook can also be bought globally on Amazon
Follow Simon on Facebook and twitter @simonbowerbooks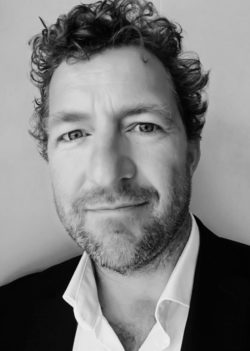 ---