When Morwenna Blackwood was six years old, she got told off for filling a school exercise book with an endless story when she should have been listening to the teacher/eating her tea/colouring with her friends.  The story was about a frog.  It never did end; and Morwenna never looked back.
Born and raised in Devon, Morwenna suffered from severe OCD and depression, and spent her childhood and teens in libraries.  She travelled about for a decade before returning to Devon.  She now has an MA in Creative Writing from the University of Exeter, and lives with her husband, son and three cats in a cottage that Bilbo Baggins would be proud of.  When she is not writing, she works for an animal rescue charity, or can be found down by the sea.
She often thinks about that frog.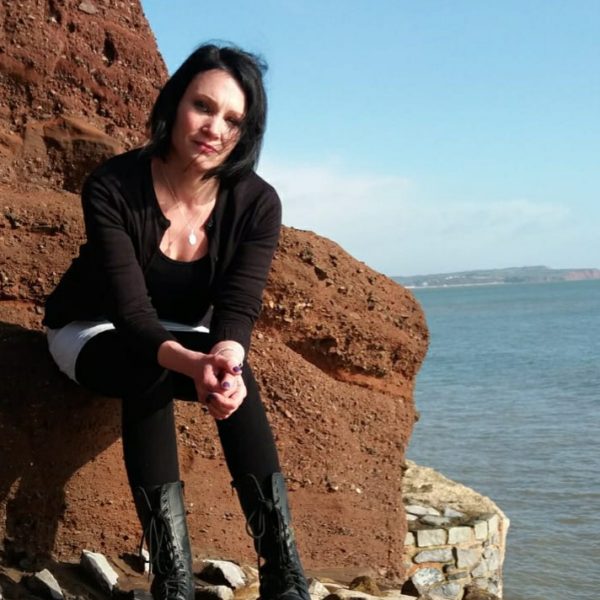 Book Playlist – The (D)Evolution of Us by Morwenna Blackwood
(click on the links to hear the songs)
Born Slippy – Underworld
A great opening track! It featured in the 1996 film, Trainspotting, and so was massive around the time The (D)Evolution of Us is set.  Protagonist, Richard, is in love with it, and this is the song I hear in my head in the scene when he's breaking down in Lyme Regis.
Supersonic – Oasis
Another iconic 90s song!  Kayleigh from TDofU loves Oasis – she's got Definitely Maybe playing in her head-phones and in her flat for most of the novel, and even names her son after Liam Gallagher.  It drives Rich up the wall!  As a teenager in the 1990s, I was well into the Britpop Indie scene – I always listened to Jo Whiley and Steve Lamacq's Evening Session on Radio One, and I'll never forget being in the back of my parents' car going somewhere and hearing Supersonic for the first time.
She's a Man – Thurman
There's an extract early on in TDofU, from the novel protagonist, Catherine, was writing, where 'Kate' and 'Lola' are at gig at the Cavern club in Exeter.  They're watching a band called Thurman, and this is a point where fiction and reality merge, because I actually went to that gig in 1990-whatever with my friend from college.  There were hundreds of obscure indie bands about at the time, and we went to every gig and concert that we could get to.  It was bonkers!
You Oughta Know – Alanis Morissette
Alanis Morissette's album, Jagged Little Pill, was still being played everywhere ALL THE TIME for the characters in TDofU.  It's such an angry song, and one of the first songs I heard on the radio that had a word blanked out and I remember thinking at the time 'Ooh, you can actually say what you want!'  So I stopped censoring my writing.  Thanks, Alanis!
Linger – The Cranberries
I still love this song – I think it's beautiful.  In TDofU, Rich has it played at Catherine's funeral because he thought it was her favourite song.  It wasn't. RIP, Dolores.
The Riddle – Nik Kershaw
Catherine's actual favourite song, and one of my favourites too, since I was a child, because I thought the lyrics were weird.  I use The Riddle in my novel as a kind of trope for Cath.  The video is pretty bonkers, too!
Kayleigh – Marillion
The song protagonist, Kayleigh, likes to tell people she was named for.  Some days I think this was the best 80s song ever, some days I hate it with a passion!
Kare Kare – Crowded House
Will, a minor character in TDofU, loves Crowded House, especially the album Together Alone, from which this is the opening track; he plays it on repeat.  It's a song that I can just drift away to; it's soothing, and when I hear it, I feel like I'm floating on my back in the sea under a starry sky.
Insomnia – Faithless
And now for something completely different!  This is another one from Rich's CD collection.  Back in the day, me and my friends danced like mental to this, usually with a pint of cider-and-black slopping about all over the place!
High and Dry – Radiohead
Catherine plays this on repeat when she has quite literally been left high and dry by Rich.  If I ever get to go on Tracks of my Years or whatever it's called on Ken Bruce's Radio Two show, this is one of the tracks I'll choose!
I Feel This Way – Rachel Wallace
Rich again.  He was a raver, back in the day – white gloves and a Smiley tattoo – and he loves this track.  Not my thing, really, but I love the beat on it!
Live Forever – Oasis
Iconic song, and one that I've sung at the top of my lungs a million times.  A great song for the end of TDofU, because it conveys so much about the characters in the story, the era in which it's set, and the deeper meaning of the novel as a whole.
At the time I'm writing this, it's the 25th anniversary of the Blur-Oasis Britpop chart battle.  Wow.  25 years.  Guess which single I bought…!
The (D)Evolution of Us – Morwenna Blackwood: The Blurb
… the water was red and translucent, like when you rinse a paint brush in a jam jar.  The deeper into the water, the darker the red got.  No, the thicker it got.  It wasn't water, it was human.  It was Cath.
Cath is dead, but why and how isn't clear cut to her best friend, Kayleigh.  As Kayleigh searches for answers, she is drawn deeper into Cath's hidden world.  The (D)Evolution of Us questions where a story really begins, and whether the world in our heads is more real than reality.
Morwenna's links:
Amazon Author Central: amazon.com/author/morwennablackwood
FB Page: https://www.facebook.com/morwennablackwood
Twitter: @MorwennaBlackw1
Instagram: morwennablackwood_
Email: blackwoodmorwenna@gmail.com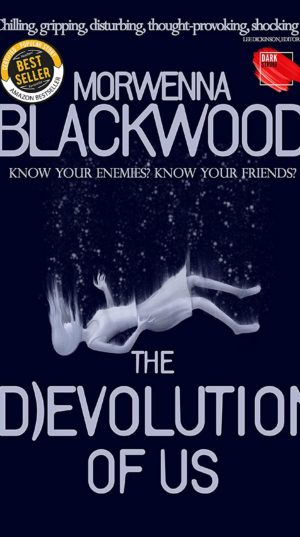 ---