Miriam Drori was born and brought up in London and now lives with her husband and one of three grown up children in Jerusalem.
With a degree in Maths and following careers in computer programming and technical writing, Miriam has been a writer for fourteen years. After some success with short stories, Miriam turned her hand to longer fictional works, publishing Neither Here Nor There and The Women Friends: Selina, co-written with Emma Rose Millar.
Social anxiety features in Miriam's latest publications. Social Anxiety Revealed is a non-fiction guide that explores this common but little-known disorder from multiple points of view. The book has been highly recommended by 'sufferers' as well as professionals in this field. Cultivating A Fuji is the story of a fictional character who battles against social anxiety before learning to make friends with it.
When not writing, Miriam enjoys reading, hiking, dancing and touring.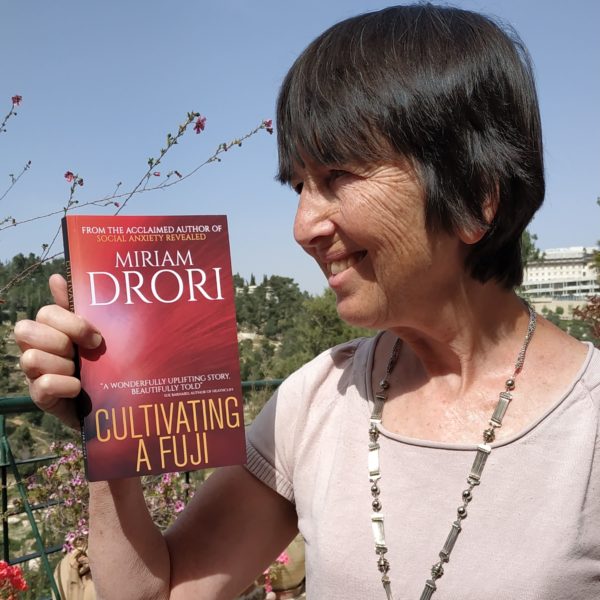 Miriam Drori, Author of Cultivating A Fuji
My new novel, Cultivating a Fuji, is full of music, so I have no problem putting together a playlist for it. The playlist consists of all fourteen of the pieces in the book. I've decided to interweave classical and other.
The Grand Old Duke of York
Let's begin at the beginning. The reference to this grand old nursery rhyme has nothing to do with Martin, who is the main character in the novel. My sweetest memory of the song is of my oldest singing it at the age of three. I wish I'd captured his serious face in a video.
Ravel – Introduction and Allegro
This wonderful piece comes at the beginning, which is really the end, as Martin reflects on his life from an armchair in a home for the aged. It symbolises the gentle entrance into Martin's story. It also mirrors the story in other ways, but I don't want to give too much away. This was one of the pieces I studied at school, so I know it well.
Run, Rabbit, Run
This popular war-time song is remembered by someone who sees Martin's fright and flight. I think I remembered it from an episode of The Men from the Ministry!
Bach – Double Violin Concerto and Rimsky-Korsakov – Flight of the Bumblebee
In the home, these two symbolise Martin's quiet reflections and an interruption by a carer. The Bach was another from my school days. The Bumblebee was just right for the purpose.
Scaffold – Lily the Pink
A fun, lively song. Two boys singing along. What could go wrong? I still remember a lot of the lyrics, and enjoying the performance on Top of the Pops.
Handel – Water Music
Pleasant tunes that fit a scene in the novel. This music also has an interesting history that you can look up, or read about in the novel.
Wings – Mary Had a Little Lamb
A song mentioned in passing and another I remember from my youth.
Beethoven – Ninth Symphony
Another briefly mentioned piece, but who doesn't know about the Ode to Joy?
Paul Simon – Something So Right
This song meant a lot to me when I was at university. Martin feels the same way.
Haydn – Surprise Symphony
The surprise in the second movement gives the symphony its name and awards it a place in the novel.
Gershwin – Summertime
Things are looking up for Martin. Is that why he chooses this song for his karaoke performance?
Chopin – Funeral March
I'll leave you to guess why this is here.
Mungo Jerry – In the Summertime
A lovely jolly tune on which to end the list. Someone – not Martin – sings it, out of tune and very loudly. Fortunately, only one person hears.
Thank you, Catherine, for the opportunity to share something about the music in Cultivating a Fuji. I've had fun writing the post.
Cultivating a Fuji
Convinced that his imperfect, solitary existence is the best it will ever be, Martin unexpectedly finds himself being sent to represent his company in Japan. His colleagues think it's a joke; his bosses are certain he will fail. What does Martin think? He simply does what he's told. That's how he's survived up to now – by hiding his feelings.
Amazingly, in the land of strange rituals, sweet and juicy apples, and too much saké, Martin flourishes and achieves the impossible. But that's only the beginning. Keeping up the momentum for change proves futile. So, too, is a return to what he had before. Is there a way forward, or should he put an end to the search now?
Gradually, as you'll see when Martin looks back from near the end of his journey, life improves. There's even a woman, Fiona, who brings her own baggage to the relationship, but brightens Martin's days. And just when you think there can be no more surprises, another one pops up.
Throughout his life, people have laughed at 'weirdo' Martin; and you, as you read, will have plenty of opportunity to laugh, too. Go ahead, laugh away, but you'll find that there's also a serious side to all this…
Thank you Miriam Drori! You can check out Miriam's writing and buy her books here:
---