Through a combination of bad luck, illness and incompetence, I ended up with four babies who would not sleep. Those months and years of desperate exhaustion took their toll on all aspects of my life; I felt a complete failure, and it's no exaggeration to say there were some dark times. It wasn't for lack of trying either. I devoured every parenting book I could find, especially the so-called 'sleep manuals', and tried all their methods on my babies and toddlers, from the ridiculous to the downright cruel. Nothing worked. But one day, as a treat, I read Emily-Jane Clark's 'Sleep Is For The Weak.' It felt like a huge weight being lifted from my shoulders; it felt like a hug from a friend. Emily-Jane makes you realise you are normal – no, better than normal – she makes you feel you are amazing. Because mothers are. She doesn't tell you what to do, she just tells you how to cope – with a hefty dose of laugh-out-loud humour. Emily-Jane is hilarious, and it was no surprise when I found out that she also writes for The Daily Mash and The Mash Report (as well as loads of other stuff – check out her website).
After I read Sleep Is For The Weak I just stopped worrying. And my kids started sleeping. Go figure. Enjoy Emily-Jane's playlist!
Emily-Jane Clark, author of 'Sleep Is For The Weak'
I have a weird relationship with music. I love it, but I don't listen to it half as much as I would like to because I get extreme nostalgia. A song will not just remind me of the time I used to listen to it, but it will transport me back there and I'll feel all emotions of that time;   good and bad and it can be quite draining!
So for me, putting together a playlist for my largely autobiographical book Sleep Is For The Weak: How To Survive When Your Baby Won't Go The Fuck To Sleep,  was quite emotional because it took me on a journey back through the highs, lows and really fucking low, lows of early motherhood.
I listened to a lot of music when my two daughters were babies.  There were songs that would settle them down if they were collicky (or just crying because they are babies and it is what they do) and songs that would make them smile.
Part 1 of my book 'From Bump to Baby To Beyond Exhausted' is all about those challenging early days with a newborn and the soundtrack to this would be The Captain by Biffy Clyro because we played it a lot when my eldest was a baby. She would immediately go from screaming to a 'music trance' three second into this track. On the rare occasion my babies slept I would start singing Aerosmith's 'I Don't Want To Miss A Thing' as they lay on my chest, until the UTTERLY knackered side of my brain took over and started screaming Cyprus Hill's 'Insane in the Membrane' instead. I would say 'The First Day of My Life' by Bright Eyes sums up a lot of the emotion in the first part of my book, not only because I played it a lot (a feeble attempt to get my babies to sleep) but because in many ways having a new baby is like the beginning of a whole new life.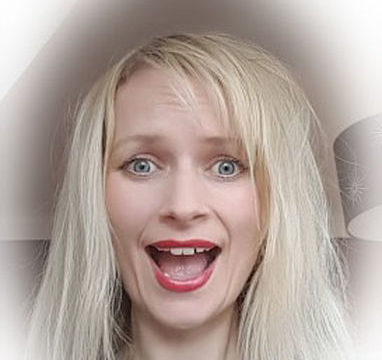 Listen to Emily-Jane's Spotify playlist here
The Captain – Biffy Clyro
I Don't Want To Miss A Thing – Aerosmith
Insane In The Brain – Cypress Hill
First Day Of My Life – Bright Eyes
Killing In The Name – Rage Against The Machine
The Master Plan – Oasis
Smile – Nat King Cole
Mardy Bum – Arctic Monkeys
Another Saturday Night – Yusuf/Cat Stevens
Insomnia – Faithless
I'm So Tired – The Beatles
Diamonds Aren't Forever – Bring Me The Horizon
Creep – Radiohead
Rainy Days And Mondays – The Carpenters
Basket Case – Green Day
Sweet Child O' Mine – Guns N Roses
I Can See Clearly Now – Jimmy Cliff
She's So Lovely – Scouting For Girl
Let It Go – Idina Menzel (from 'Frozen' soundtrack)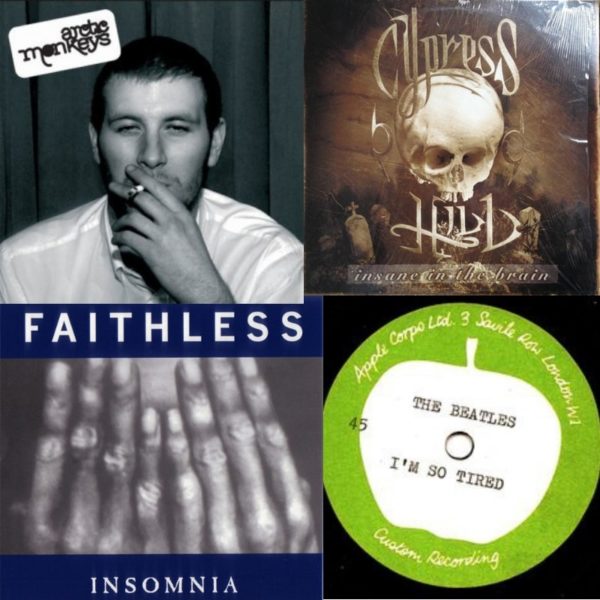 Part two of my book 'How to get your baby to go the fuck to sleep' is largely poking fun at all the 'expert advice' that can make motherhood way more stressful for new mums so Rage Against The Machine's 'Killing In The Name' has to be the soundtrack for this along with 'Masterplan' by Oasis and 'Smile' by Nat King Cole which describes one of my favourite parenting survival tips – smile, because if you don't you'll cry. A lot.
The next section covers 'How not to lose friends and irritate people' where I talk about all the crazy ways sleep deprivation and babies can affect relationships (and how not to kill your partner).  The sound track for this (and my marriage) during this time this time would be Arctic Monkeys' 'Mardy Bum' and theme tune for the chapter about when I was lonely and trying to 'pick up sleep deprived women' would be 'Another Saturday Night' by Cat Stevens.
    Part four of my book 'No sleep solutions' is about finally accepting you are not going to be getting much rest for a while and instead of trying to 'fix' your wakeful baby, learning how to survive sleep deprivation.  During this time, I liked to listen to songs about going without sleep that I could relate to, so listened to Faithless 'I Can't Get No Sleep' (of course), The Beatles 'I'm so Tired' and 'Diamonds Aren't Forever' by Bring Me The Horizon (if you can bear the noise).
Postnatal depression was a huge part of my early parenting journey and I talk about this time in part five of my book 'when you can't find the light'. The soundtrack to this scary and dark time of my life would be 'Creep' by Radiohead, 'Rainy Days and Mondays' by The Carpenters and 'Basketcase' by Greenday.
The final part of my book is about finding the light at the end of the tunnel of tiredness and how you really CAN survive those dark days of sleep-deprivation! Gun and Roses 'Sweet Child O' Mine', 'I can see clearly now' by Jimmy Cliff and 'She's So Lovely' by Scouting For Girls would be the soundtrack for the moment your child finally starts sleeping and you think that maybe, just maybe, they aren't dicks after all.
Finally, the song for the conclusion to my book has to be and 'Let It Go' from Frozen – not just because my children were singing it 24 hours a day when I was writing this chapter but because I think 'letting it go' it is a great way to deal with parenthood and life in general.
Thank you Emily-Jane! It's so true that making playlists can be emotionally draining as they bring back the past, and I really appreciate this personal and funny compilation. If you're a parent, or plan to be one at some point, I cannot recommend Emily-Jane's book highly enough. It's probably the only book you will need. You can buy it here:
Buy 'Sleep Is For The Weak'
Emily-Jane writes all sorts of other stuff too; you can follow her here:
Facebook
Twitter
Instagram
Website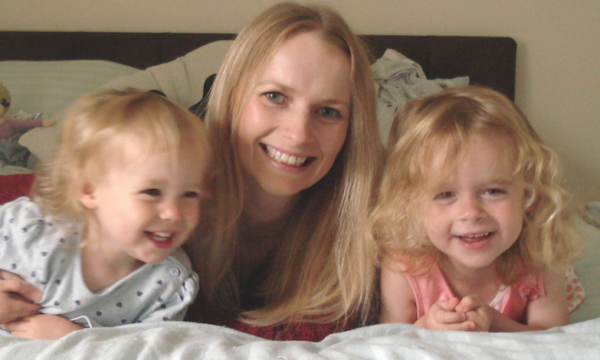 ---