Sarah Tipper has two very important jobs; she is a cancer research scientist, and an author of metal books. How cool is that? Sarah lives in Oxford, and I discovered her just after I had moved from the UK, having been living in Oxford myself for nearly fifteen years. How annoying is that? We could have been hanging out together doing metal stuff that whole time. Sarah has written nine books and is currently working on her tenth and eleventh. Her 'Very Metal Diaries' are gloriously funny, nostalgic, Adrian Mole-type diaries about a teenage metalhead called Cleo Howard. Who definitely has nothing in common with Sarah whatsoever. These books resulted in a spin-off series about Eviscerated Panda, Reading's premier fictional thrash metal group. I wish I had thought of that band name first. Metal has an inherent absurdity that often lends itself to comedy, but Sarah's metal humour is infused with deep reverence for, and knowledge of, the music that she loves. Enjoy her playlist!
Sarah Tipper, Author of The Cleo Howard Diaries
Music is woven inextricably throughout the Cleo Howard Diaries. Cleo is a teenage metal fan, growing up in Reading, England, obsessed by music and boys/men. I've written her life from the year 1997, just before her fifteenth birthday, to the year 2000. Cleo uses music in part to define her personality and influence her mood and I use music in these diaries to take people back in time. In the late 90s what was at number one in the charts was still relevant, and Cleo likes to criticise the taste of her school mates so it's not just metal songs and bands that get a mention in my writing.
Before we had playlists, we had mix tapes or mix CDs. You had to really like someone to go to the bother of making them a mix tape. The first mix tape Cleo receives comes from best mate Ian. It's full of metal classics including "Where Next To Conquer" by Bolt Thrower and "L.O.V.E. Machine" by WASP. She makes him a tape in return which includes "How Will I Laugh Tomorrow" by Suicidal Tendencies and "Angelfuck" by The Misfits.
Ian and Cleo go on to have a will they/won't they type of relationship in The Eviscerated Panda saga, which is set after Cleo and Ian return to Reading after university and follows the ups and downs of Ian's thrash band Eviscerated Panda.
Cleo has two best friends, Jenni and Ian. Jenni receives a mix tape from Lex, a handsome goth six-former and Cleo comments that "I think a lot of the songs are the sort of songs you would play to someone you fancy". These include "Close To Me" by The Cure and "Be My Druidess" by Type O Negative.
There is just one punk at Cleo's school. She's in the school year above Cleo, her name is Sadie "Shot" Gunn and Cleo has a bit of an unacknowledged crush on her so is delighted to get a mix tape from her. It includes "Oh Bondage Up Yours!" by X Ray Spex and "The Wars End" by Rancid.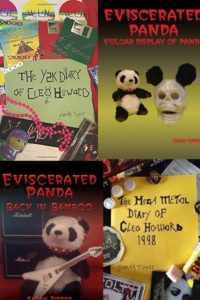 Click to view Sarah's playlist in Spotify
Where Next To Conquer – Bolt-Thrower
L.O.V.E. Machine – WASP
How Will I Laugh Tomorrow – Suicidal Tendencies
Angelfuck – The Misfits
Close To Me – The Cure
Be My Druidess – Type O Negative
Oh Bondage Up Yours! – X Ray Spex
The Wars End – Rancid
Raining Blood – Slayer
Wait And Bleed – Slipknot
She Rides – Danzig
Down At The Pub – Lunachicks
Everybody In The Place (Fairground Remix) – The Prodigy
Rob Zombie – Dragula
Heaven and Hell – Black Sabbath
Cleo, Jenni and Shot collaborate to make a mix tape for listening to when they've got their period called "The White Trouser Wearing, Roller Skating, Time Of The Month Mix Tape, sponsored by Wooaaahh! Bodyform! Bodyform for you- oooh- oooh!" Every song mentions blood and it includes "Raining Blood" by Slayer and "Wait And Bleed" by Slipknot. Annoying – I've just noticed I missed out Entombed's "Blood Song" which would have been an obvious choice.
Cleo recognises the importance of music and is superstitious about its power in this quote from The Y2K Diary Of Cleo Howard: "I have decided to make sure the last song I hear before leaving the house is going to make whatever I'm going out to do work better. Tonight before I went round to Barry's I listened to Danzig's "She Rides" and then when I got to Barry's I went on top".
This is a theme and Cleo often notes the last song she heard before leaving her house. She listens to "Down At The Pub" by the Lunachicks before going to her favourite rock pub The Green Man.
Sometimes Cleo has music she doesn't like forced on her ears. This happens in the sixth form common room and in RG1s, a crap nightclub she has to go to because it's a friend's birthday. Here's a quote about RG1s: "The best bit of the night was when we danced to The Prodigy. Everyone was dancing to The Prodigy. Jenni said they are our generations' Abba". It's very different when they go to the Electric Ballroom in Camden and dance to Type O Negative, Marilyn Manson, Machine Head, Sheep On Drugs, Buzzcocks, Sisters Of Mercy, Rob Zombie, Rammstein and other favourites.
Some of the artists I use to locate the reader in time are; Christina Aguliera, Vengaboys, Britney Spears, Bob the Builder, Travis, Destiny's Child, Mark Morrison and R. Kelly but I'm not putting these on the playlist because Cleo doesn't like them. Cleo knows metal is better than the pop crap other people are listening to: "I was listening to Black Sabbath this morning when it suddenly occurred to me that Ronan Keating's "Life Is A RollerCoaster" is a very lame version of the bit in Sabb's "Heaven and Hell" when it says "Life is like a carousel, spinning fast, you've got to ride it well". I will take Dio over Keating anytime".
I could have created a playlist of hundreds of songs, such is the extent to which I use music in my writing. I always hope that anyone reading my books will get a little thrill when I mention a song that they recognise.
Thank you so much Sarah Tipper! You can check out Sarah's writing and buy her books here:
---